Most days of this 21st century, I have stopped at a Starbucks for coffee: I am a Starbucks whale.  
So the lede on a recent NPR story hooked me: a man who loved coffee so much that he opened a store. And then, workers in the cafe unionized.
The man wasn't Howard Schultz, and the store wasn't Starbucks, though. Likewise is an indie cafe in Milwaukee, and the man is owner Scott Lucey.

Scott Lucey must be doing something right. Before Covid, only 50% of small businesses even made it to the 5 year mark. We all probably have favorite indie businesses that fell to the pandemic. Lucey started Likewise in 2015, and they're still here; that's an achievement. But that's not the story. Nor is the story about Scott being a bad guy.
Scott loved coffee. So he spent years working in the field, and learning; owning a cafe was an "inevitable end."  
The E-Myth Revisited (library) (Bookshop.org) is one of my rare business book recommendations. It begins with the parable of a woman who loved pie so much that she started a business. Only to find that Pie Shop Owner has become a job she hates, and can't quit. It's not enough to love everything about, well, pie.
Subject matter expertise isn't enough — running a business means that you have to be able to manage people.
Lucey tells NPR's Andrea Hsu that he wanted people to be happy. Some things are not under a manager's control. So when happiness happens at work, it's a fortunate result. You can control how you will engage – and when managers regularly back away from difficult conversations, nobody will be happy.
One version of the American Dream says that if you start your own company, you can do things your own way. Scott Lucey bought into that dream.
Central to this American Dream is the idea that you can be called to a job by love, a love that will render the work "beyond critique." This is vocational awe. Extending something developer Sara Chipps once said about software development, your idea for a business is pretend, at its outset. People are real. Your business probably can't be real without people and relationships.
Even men who hold powerful and well-resourced offices sometimes find that they can't always do whatever they want to do. (Hopefully.)
The heroic entrepreneurship story about someone who borrowed against their house to fulfil their destiny is supposed to end in triumph, not uncertainty. Great job by the team at NPR, for not surrendering to this trope, and instead telling a very real story.
I hope this story ends well for everyone who works at Likewise, and their customers.
---
When friends have questioned my Starbucks brand loyalty, I've asked them if baristas at their presumably highbrow indie have health insurance. I bought into the Starbucks story, and I'm stepping up for the people who make my coffee.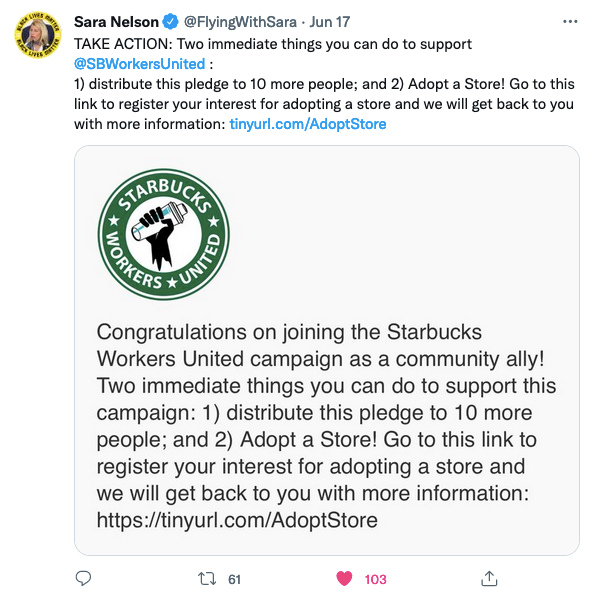 ---
Links
---
The idea of these Warm Takes is that I write them while drinking my Sunday morning coffee.  So, thanks to Daniel, who made my coffee this morning, and Helen, who rang me up.
The next time I read through this note, I'll probably find a typo, or a better way to say something – I will usually go back and fix it on The Internet.
Thank you for reading, and to the folks who pay to support On Management.
May you and your loved ones be safe, healthy and free.
ICYMI
---