About 10 years ago, I was fortunate to attend the launch event for a study on women's leadership, "The Sponsor Effect: Breaking Through the Last Glass Ceiling."
The event was held in the American Express auditorium at NYC's World Financial Center. The study's lead author, Sylvia Ann Hewlett, was introduced by Amex's then-CEO Ken Chenault.  The audience was largely female, and dominated by executives and rising middle managers from Wall Street firms.
You can imagine what we were wearing. (Hint:  think black and navy suits. Pops of color.)
So I was, er, surprised when Sylvia came to the podium. By then well into her 60s, she wore a shiny, flared black mini. A form-fitting red blazer, over a sheer black top that emphasized her décolletage. Black stockings and heels. Her hair highlighted blonde, worn long, and -- in my memory -- maybe slightly teased.
She did not look like a bank executive. At the time, I received her message as, "I earned the ability to show up like this.  Now, listen to what I have to say."
Since then, I've had occasion to recall the power of Sylvia's look that night. Her personal stories are part of Executive Presence:  The Missing Link Between Merit and Success (Bookshop.org) (library).
One story was about how, early in her career, her clothing had telegraphed her social class, in a way that was not good. Later on, she was also judged harshly in academia for sharing her work in un-serious media outlets, in a way that makes me see her as seriously ahead of her time.
I've been thinking about the concept of "executive presence." The phrase is used differently by different people.  It's not always helpful, or even benign.
Tech executive Erica Baker recently tweeted, "raise your hand if you've ever been told you don't have 'executive presence.'. The replies are…awful.
To be clear, executive presence is a thing. It's a set of behaviors and actions that signal competence, and/or a level of cultural mastery of an organization, industry or domain.  It's not an unchangeable attribute; it can be learned.
To the extent that it's useful, it must be decode-able.  And decoded.  And, sometimes, taught.
That said, executive presence also falls into a category that I call, Anything Can Be Weaponized. Given as feedback without context, it can be used to tell someone that they don't, won't, cannot ever, belong.
I don't remember when executive presence came into common parlance. Maybe in the early to mid-90s, when baby boom women started to bump their heads up against the glass ceiling.
As for Sylvia's look that night. Maybe her message wasn't meant for the executives in the audience. Maybe it was for more underestimated, and equally capable, support staff who would have been involved in producing the event.
---
No, I won't ever know why Sylvia chose that outfit. Thinking about it today, someone else's look came up for me. "Dolly is a white Southern multi-millionaire boomer who produces self-consciously white music while wearing a stylized drag of a fallen Southern belle," says Tressie McMillan Cottom in The Dolly Moment.
---
My copy of Hewlett's study we gathered to celebrate is now battered; I still lend it out to young women in my circle whom I trust to return it.  And I've recommended Executive Presence to women and men since it came out in 2014; I haven't revisited it in a while — I wonder how it has aged. Send me a note if you'd be interested in attending a discussion group on the book.
---
I'll likely come back to executive presence in my long percolating, and soon-to-be-written/published newsletter issue on the topic of competence.
And "soon" will be after I finish straightening out some of the still vexing issues that came up in moving my newsletter from Substack. Please put your eyes on your credit card statements -- I've reached out to people where I've caught known issues. I'm worried about unknown issues.
Thanks for reading my Sunday morning-into-afternoon Warm Take, and forgive my occasional typos and things I'll find when I read it after sending.  Even though I do read it before sending.  I'll do sometimes fix errors in the online archive copy.
Thank you for reading and supporting my newslettering. Send me a note if you have thoughts or questions!
May you and your loved ones be safe, healthy, and free.
October 31, 2021 update:  this note originally went out to supporting members of On Management, that's to say, people who pay to receive the newsletter.  I've edited it since I sent it out.
---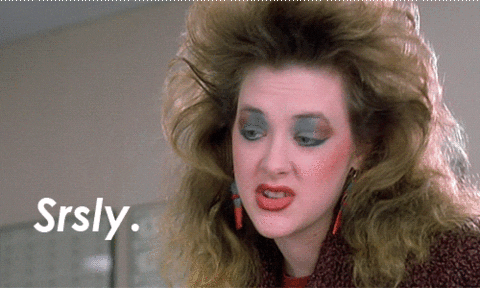 My hypothesis about when the phrase "executive presence" came into use might be influenced by the fact that I do not remember Tess McGill's horrible bosses using it against her in Working Girl (1988.)