Team-Building, Workshops, and Offsites: Oh My! On Management #17
"Nobody sees a flower - really - it is so small it takes time - we haven't time - and to see takes time, like to have a friend takes time."
---
This month, workshops and team-building.

The audio features my conversation with Chase Pashkowich from Kickstarter, on a  potentially useful team-builder.  A welcome iteration on my workplace hierarchy of needs, via artist Jason Li.  Also, interesting links, from you and me.

First, my rumination on 20th century film that still asks a relevant question:  what makes us feel like we belong?
---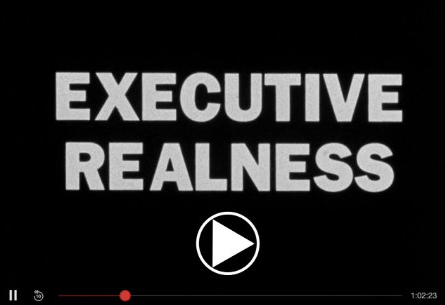 Until Paris is Burning recently arrived on Netflix,  I had only seen it once.  It was the early 90s, at an art house in NYC.  This film has lived with me, indelible.  Especially at work.

A story of Harlem's 1980s ball scene, Paris is Burning hits hard on our human search for belonging and acceptance.  The film follows people seeking out realities that eluded them outside of the balls.

Through dance, performance, costume, and contests, the space of the balls enabled people to be Real:  real women, real men, real servicemembers, real college students, and much more.

At the time, I was stunned by Executive Realness, where contestants competed for a Realness that looked like my bosses.  Paris is Burning rendered me unable to un-see the drag elements of the career domain -- to the extent that I can understand drag at all.

The film pops to my mind every time I see a stock photo of a hoodie-wearing dude at a Mac, drinking khaki-colored sludge from a bottle.

Also when I hear people in my circle judge their own Success based on what others seem to be doing, as performed via social media.  Even though we all know that there's pressure to project even severe difficulties as part of one's Personal Brand™.

Seeing the film again in today's present, it's heartbreaking to see how far we have not come.  

Worth considering:  what Realness do we seek in the name of "culture fit?"
---
Here's a "frequently asked question" I receive:  what's a good team-building exercise for our offsite?  There really isn't an answer;  one size does not fit all.

Chase Pashkowich is a manager on the Integrity team at Kickstarter.  Chase and I talked about how he chose and used the User Manual for a team offsite:  pros, cons, benefits, learnings, and different ways to iterate on the exercise.

This month's audio also features input from the Prompt community, and a relevant clip from my earlier conversation with experience designer Ida C. Benedetto.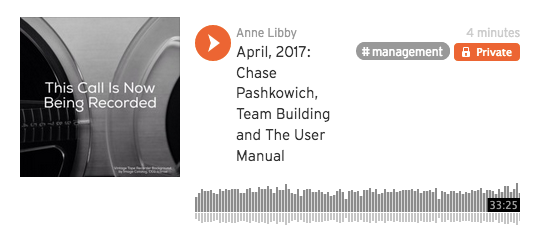 Links that came up in the audio:
Also, to be real:  my conversation with Chase was edited for brevity, and also to remove pauses and erms.   Though I'm working to break the habit, I did not edit out my use of the  phrase "you guys" -- hashtag midwesterner, hashtag sigh.
---
Last month, artist Jason Li had a question:  if he were to illustrate my  Workplace Hierarchy of Needs, would I share it?

Heck, yes.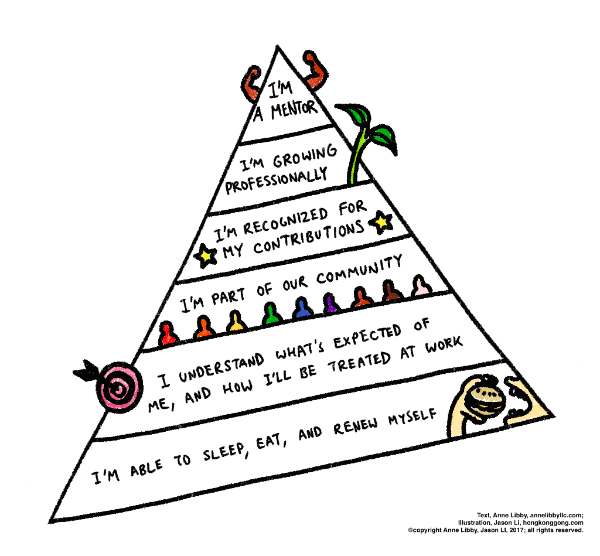 Thank you, Jason!   It's beautiful.
---
What I've been reading, &
---
From you, &
---
Endorse:  the ability to sleep, eat, and renew yourself  My longtime friend Marjorie Nass is a health/fitness coach.  Marjorie's Reset & Renew program starts April 19; it's like spring cleaning for your health habits.
---
Thanks to Chase Pashkowich and the Integrity team at Kickstarter, Ida C. Benedetto, Beckie Klein, Adam Moodhe, Nikki Sylianteng,  Prompt and Edlyn Yuen.  Also, Simon, aka Doctor Turtle, for permission to use his music, Robot Crambo, in this month's audio segment.

Next time, "advice."  I think.  Though Startup* has me thinking about "relationships at work," so that may come up, too.

Thank you for reading, and for sharing my newsletter.  What are you reading, ampersand?

Anne Libby
@annelibby

*Disclosure:  after I unsuccessfully tried to purchase Startup -- it wasn't out yet -- I requested, and received, a free review copy.
---