If you're new here, welcome!  And welcome back to regular readers.
This time, a few pieces that amplify the last newsletter's topic:  how stories are made and told; and who gets to tell them.  And, a theme I wrote about in 2017 continues to resound.
Thank you for inviting me to your in-box!
---
Here's artist Jason Li's illustration for The Story is the Story: On Management #40.
Jason uses illustration and design to spotlight untold narratives.  You will find him online here.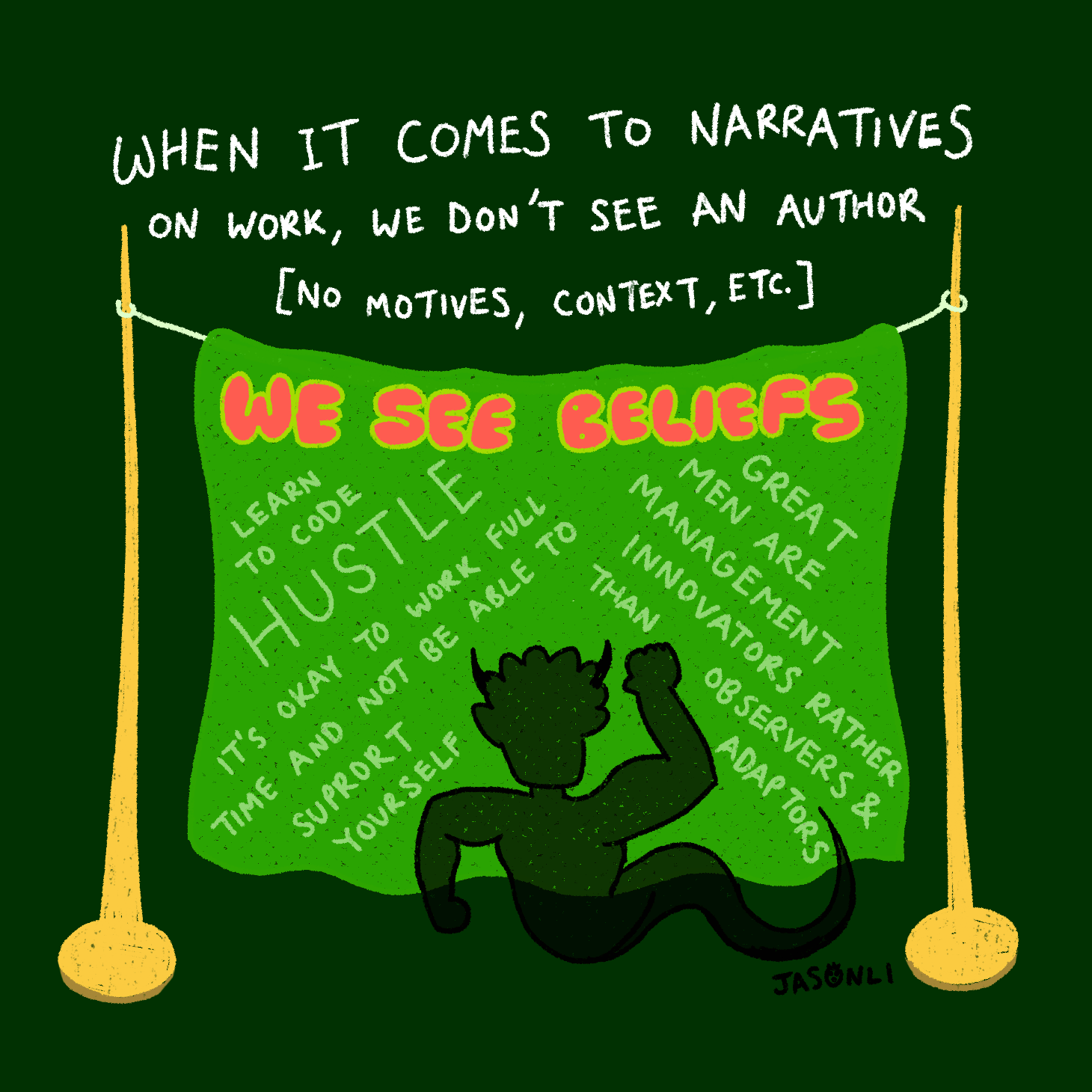 Next time, I'll come back to Jason's work, and his illustrations for On Management, which I love.  Thank you, Jason!
---
I'm using Jim Lehrer's rules to consider how to read more critically, too.
---
---
---
Links
I'm a sucker for process.  The Catch and Kill podcast dives into how Ronan Farrow and his co-workers reported the Harvey Weinstein story.  

Episode 7:  The Editors is about how The New Yorker picked up, vetted, and decided to publish the story, knowing that NBC News had kicked it to the curb.  

I love the inside baseball with editors and fact-checkers.  I was gutted by David Remnick's response to Ronan's question:  given what they knew, why might a news organization have chosen to hold off on going public with the Weinstein story?


Why, indeed.  

This week, WNYC's On The Media ran a crossover episode with Alec Baldwin's Here's the Thing:  OTM presents: Here's the Thing with Megan Twohey and Jodi Kantor.

I'm a longtime OTM listener; HTT, not so much.  The episode blurb sold me, promising a conversation that "covers their reporting process, and moves on to a joint wrestling with Alec's own early knowledge of one of the Weinstein allegations, and his ongoing friendship with accused harasser James Toback."

It's extraordinary to see this Why, in motion.  And I await the promised follow-up.


In early 2017, I described indicators of poor workplace environments in What You Disregard, You Accept: Red Flags for CEOs.  Including what I called leakage.  "When your organization has failed, institutionally, to effectively hear your employees; they've taken their concerns elsewhere for resolution."

The Wall Street Journal has been reporting on two companies whose workers have been speaking out, and brings them together in Employees Speak Out—Against Their CEOs.  And that when you aren't listening:  "Employees who don't have that outlet may come to believe that their only option is to air their grievances outside the company."

Kudos to the WSJ for including a male and female CEO in this story.  If you're reading "tech media," you've read about the woman.  (It's of varying quality.)  Maybe not as much about the man.
---
Thanks so much for reading!  And many many thanks to Supporting Members, who support On Management with their dollars — if you feel you're getting value from what I'm writing, you may join them here.
Thanks,
ICYMI:
---
February 10:  review season got you down?
Many team leaders are still working on 2019 reviews.
Or you're done, and wondering, can 2020 be any better?   I'll talk about this on a Zoom call February 10, Performance Review Basics.
I have lots of thoughts about Andy Grove's High Output Management (library) (Indiebound).
And I'm in full agreement with his assessment:  it's the most important thing you can, or should, do.

The briefing is a 60 to 75-minute Zoom call, where I'll talk about how you can prepare for solid reviews.  We'll have ample time for your questions.
I'll share my recommended habits — and some simple tracking tools — that can smooth your 2020 process.
(Supporting members, you can sign up for free, use the button linked near the end of this post.)
---