A warm hello to new readers!  And welcome back to long-time readers, especially Supporting Members.
This issue continues my experimental project with artist Jason Li:  after I publish a free newsletter, Jason illustrates it.  Then, I share the illustration in a post-script issue, like this one.
These evolving PS issues offer Jason's take on the last issue, and a few (more) good things on the newsletter's theme that I've found to read, watch, or hear.
Last time:  questioning vocational awe, the notion that there's more to work than simply doing a good job.
Thank you for inviting me to your in-box.
---
Jobs are not our everything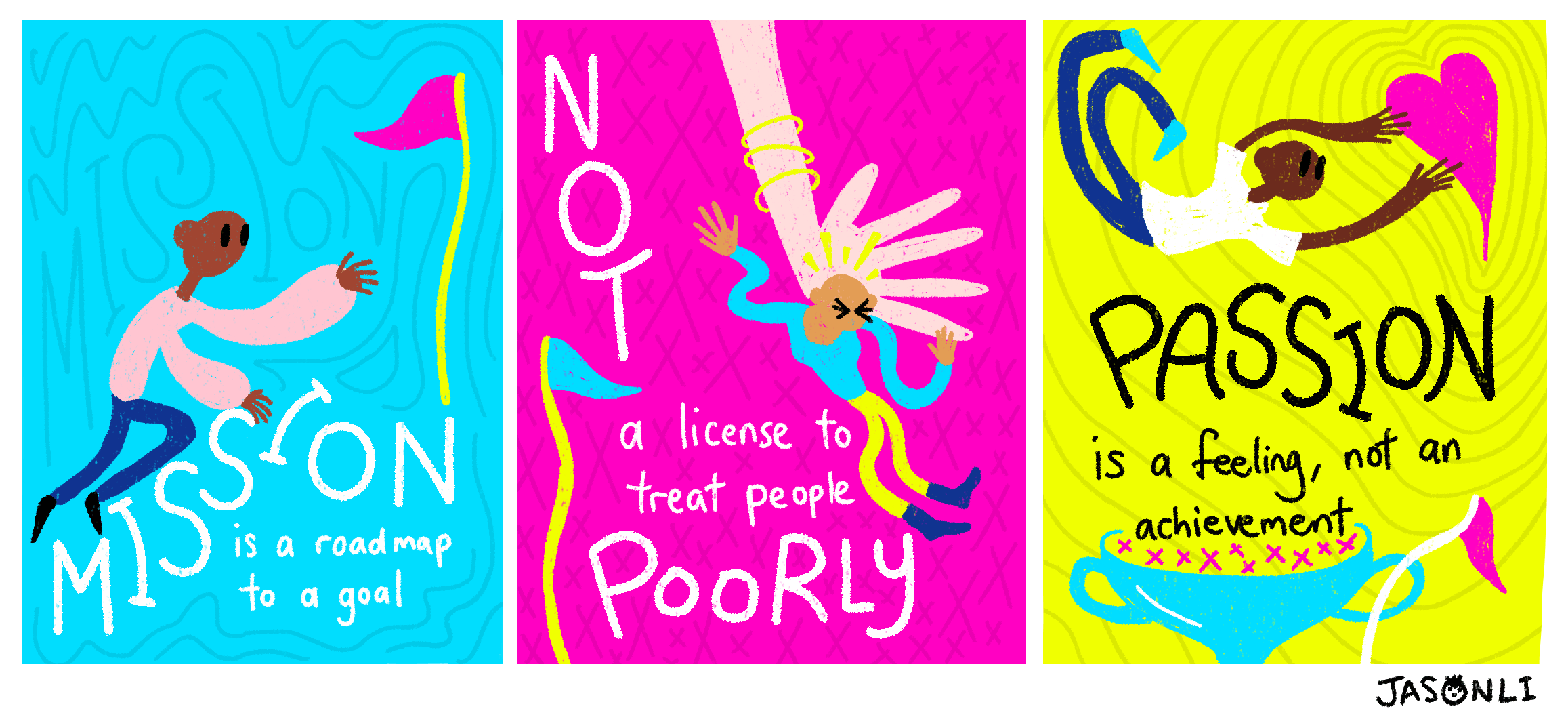 On Management #37, Minimum Viable Passion focused on scripts that come at us via media, social media — and when we're unfortunate — our own organizations.
Thank you, Jason.  For Jason's artful perspective on what's going on in Hong Kong and more, he's @jasonli on Twitter.
---
Links
"Although derived from Buddhism, it's been stripped of the teachings on ethics that accompanied it, as well as the liberating aim of dissolving attachment to a false sense of self while enacting compassion for all other beings.
What remains is a tool of self-discipline, disguised as self-help. Instead of setting practitioners free, it helps them adjust to the very conditions that caused their problems."

The mindfulness conspiracy, by Ronald Purser at The Guardian (h/t Erika Shaker via Benjamin Doxdator.)

"…we should take pride in our work and we should work hard, but we shouldn't make it the center of all things…I don't believe in work/life balance, I believe in work/life boundaries…that allow us time to work diligently and work hard, but when it's time to move off of work and into relationship, we are as protective about those relationships and that time as we are anything else."

Establishing Work-Life Boundaries Is Key to Happiness, Carlos Hidalgo at Marketing Smarts (h/t Ann Handley.)


"More than ever, it seems, hiring managers are looking for extremists: You can't just be willing to do the job. You must evince an all-consuming horniness for menial corporate tasks. In an American labor market where wages are stagnant and many workers feel their jobs seeping into their personal time, such demands only create even more anxiety and dread for Americans looking for a new gig."  

America's Job Listings Have Gone Off the Deep End, by Amanda Mull at The Atlantic (h/t Anne Helen Petersen.)
---
Supporting Members:  July 18 Office Hours, and more…
Supporting members may sign up for office hours (and more) here.
For the last month, I experimented with quick posts that I did not send out via email.  

Each weekday, I shared one good thing to read, listen to, or watch, along with a bit of commentary:  longer than a tweet storm, cooler than a hot take, shorter than a newsletter.  

Check out One Good Thing over in the archives, and stay tuned for more on this.
---
If you find On Management useful, I'd love for you to share it with a friend, retweet a recent issue — or, become a supporting member!
---
Endorse
Attention Toronto Tech, please join in, and also spread the word:
Something great for NYC-based Engineering Managers and Product Managers:
---
If you have questions or comments, please do send me a note.  I answer every email I receive — and sometimes your questions become newsletter themes!
Many thanks,
Anne Libby
P.S. ICYMI, the last few issues:
---