Meeting a Present Normal: On Management #42
Usually I'd be sending a P.S. to the last issue.  This isn't that. I'm still feeling my way through things here.
If you have question, topic, or idea you'd like to hear from me on, please send me a note.
Thank you for inviting me to your inbox.
Be safe, and be well.
Many thanks to supporting members who help me to keep the lights on.  Subscribe here.
---
"My face hurts after 7 hours of video calls"
Maybe you're vexed by team-wide check-ins every day, or random meetings on your calendar.  I pressed one colleague to ask a meeting host, "What's my role in this meeting?"
The wisdom of this question came to me via entrepreneur Ana Milicevic.  A cofounder of Sparrow Advisers, Ana can go deep on media, technology, advertising, marketing, and commerce.  She's also a longtime advocate of location-agnostic work.
Earlier this month, Ana joined me to share observations about how constraints on our work today might inspire us to meet, and work, more effectively.  Today and in the future.
I'm experimenting with briefer audios, so I've edited this conversation significantly for clarity and focus.
Many thanks to Ana Milicevic, whom you can also find on Twitter, @aexm.  Learn more about her work at Sparrow Advisers here.
---
What's my role?
I've found RACI to be a useful framework for considering roles, whether you're considering a meeting or your decision process.
Knowing who is to be Responsible, Accountable, Consulted, or Informed can be clarifying — and, now more than ever, clarity is everything.
---
No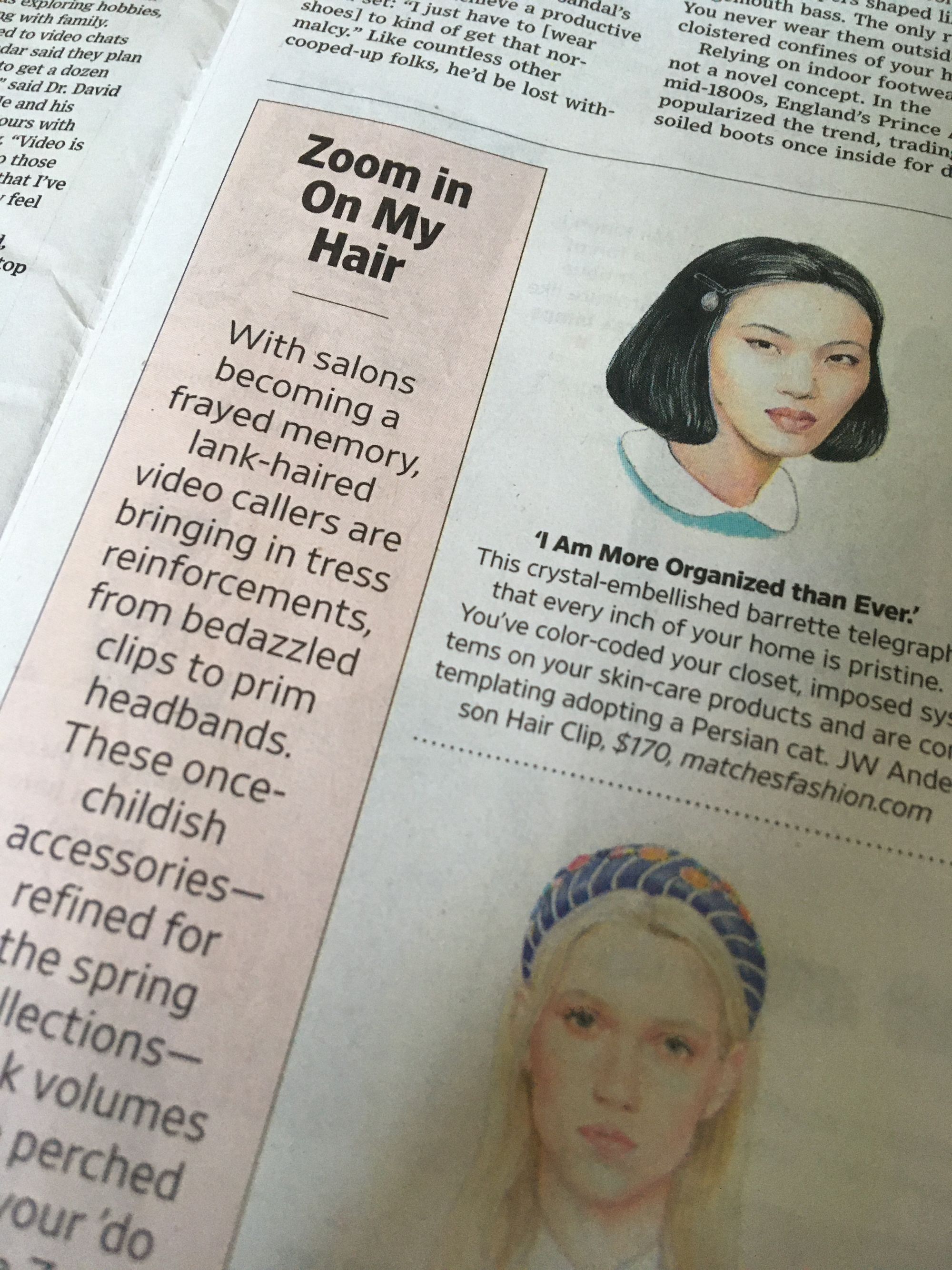 Do these young women look so sullen because they're being Hair Policed during a global pandemic?
Or because they graduated into one recession, and are now being asked to navigate another?  In a world where the business press is seriously writing articles about hair accessories that cost more than $100?
---
Advice
Some years back, I listened avidly to Dear Sugars, an advice column slash podcast.  People wrote letters about their problems, and authors Cheryl Strayed and Steve Almond answered them.  Their underlying value was "radical empathy."
Feeling unsettled after an episode where the letters were referred to as Stories, I quit listening.
Since then, I've considered advice, generally.  Along with my specific unease about Dear Sugars.
Reflecting on "advice" for my note today, I feel like letters written to Cheryl and Steve came to be treated as creative prompts.  Letter writers became characters in stories.  The stories flowed into the ad-driven content ecosystem.
It seemed neither radical nor empathic.
When you need instruction, you can find it on the internet.  My nephew and I watched video tutorials to figure out how to make a pillow cover.  And masks.
Instruction can be delivered as a story.  Advice is messier.
Advice requires subject matter expertise and humility.  Title does not convey expertise, nor does the size of someone's social media following.
Someone can be stunningly confident and dead wrong.
Advice requires context.  Bolstered by their expertise, advisors should ask good questions.  And, help you to make sense of the answers, as you develop a course of action.
What's your board's biggest concern?   Is everyone used to working remotely?  How many jobs are at risk?  How long have these two people been in conflict?
Advice requires iteration in action.   It's optimally delivered initially as suggestion:   "Try this; here's what I think will happen."
When it comes to people at work, cause and effect are not linear and timebound.
Debriefing on what actually did happen can help you to course-correct.  So advice is best served in relationship.
Internet advice should be used for entertainment purposes only.  This is merely my observation; it is not advice.
---
A question
Do you require instruction, or advice?
---
Links:  leaders communicate
"This measured, rational, compassionate response to an unprecedented disaster, this calming daily ritual that assures me and many others that people are handling a chaotic situation with knowledge, expertise, and empathy? My answer, and that of many others I know, is Dr. Amy Acton."  Listening to Dr. Amy Acton by Anne Trubek at Belt Magazine.


"This time we join with all nations across the globe in a common endeavor, using the great advances of science and our instinctive compassion to heal. We will succeed -- and that success will belong to every one of us."  Queen Elizabeth II delivers coronavirus address and calls for unity, saying 'we will succeed'.  I mean, if you're going to have a monarch, one who can step up to the role of Comforter-in-Chief would be useful.


"I'm not suggesting a leader's gender is irrelevant to the way they do things—it's part of their identity and of the life-experience they bring to the role—but it isn't the only thing that matters, and it certainly doesn't determine their style of communication, decision-making or crisis management."  Take me to your leader, by Debbie Cameron at language:  a feminist guide.

---
Welcome to new readers!  Longtime readers may notice things here are changing a bit.
My own Present Normal continues to evolve.  I appreciate your indulgence of any stray typos and loose thoughts.  I'll clean some of them up in the web version.
Send me a note with suggestions, thoughts, ideas, and so forth.
Thank you, Ana Milicevic!
And many thanks to Supporting Members who pay to receive the newsletter.  As a freelancer in uncertain times, newsletter revenue makes a neat dent in my monthly expenses.  Thank you.
Thanks,
P.S. The archive is here.
P.P.S.  After I finally broke my last nerve due to the boorish online behavior of someone I've known for a while, I am kind of mostly off Twitter.  And it feels so good.  Thanks, dude.
As such, I'm opening the comments thread here, as an experiment.  I'll dip in and out of there to see what's going on.
---