Just gimme some truth: On Management #41
I usually have a clear view of what would be useful to On Management readers.  But it's a weird and very unique time.
This is not the edition I had nearly ready for release last weekend…though I lean towards making something evergreen, it just wasn't timely.
If you have a question, topic, or idea you'd like to hear from me on, please send me a note.
Thank you for inviting me to your inbox.  And please be well, and stay well.
---
Good leadership is classic
Earlier this century, I bought a timeless black dress to wear to a benefit, from a saleswoman who called it "The Four Weddings and a Funeral dress."
Epidemiologist Emily Landon has a job envisioning pandemic.  She might not have foreseen that she'd don her own LBD to offer a powerful call to action for this moment.
After announcing a stay-at-home order last week, Illinois Governor J.B. Pritzker invited Dr. Landon to speak to the public.
The stakes are high:  the medical community must preserve hospital capacity for those who will become seriously ill.  They need time to prepare and equip themselves.
This requires strong community support, and individual action in the face of unknown, potentially catastrophic, personal circumstances.
So Landon didn't lean on medical jargon, heavy data, or credentials.
Instead, she spoke as a member of the medical community, addressing personal concerns, simply and directly.
What's happening
What it means for you
What you can, and should, do
She positioned the stay-at-home order as the only choice, pointing to outcomes of similar decisions made by leaders during the 1918 flu pandemic.
She spoke to doubts.  Loss of freedom, social connections.  And why typical American "optimism" won't help us power through this unyielding problem.
The healthy and optimistic among us will doom the vulnerable.

Emily Landon
She also spoke as a member of her greater Illinois community.  As a mom, with a fifth-grader, both now stuck at home.
She did not make any promises about outcomes.
She offered a vision of success, and assured us that it will take longer than we want it to.  Success, she said, will look like "Nothing."  And Nothing would be the absence of illness in our families; Nothing would be good.
Landon urged the public to act to protect vulnerable people, and their ability to get care.  And pointed out that her mom, and your mom, might be among the vulnerable.
Finally, she didn't spend a moment on blame.  She was not there to look back, but to look forward.
To the unknown, but more positive future.  One that will take longer than we want it to, and that we'll only find together.
This was a master class in 8 minutes.  Highly recommend.
---
(Landon was followed by Director of the Illinois Department of Public Health, Dr. Ngozi Ezike, whose more matter-of-fact comments on testing, in both English and Spanish, made my heart grow at least three sizes.)
---
(You will never really be ready)
Someday, before you're ready, you may need to give people bad news about your workplace, and their jobs.
Take a page from Dr. Landon.  Tell the truth.  Write and speak from a script that centers your team members.  Not you, not the organization.
Speak in the simplest terms.  Some listeners will be in shock, and unable to fully process what you're saying.  Tell them what they will need to do.  Follow up in writing.
When things are uncertain, acknowledge the limits of your knowledge and/or information.  Only make promises you can keep.  Practice what you're going to say before you say it.
Don't make announcements about layoffs by text message, app, or email.  At best, it's unskilled.
If you work for someone who has done this — or will do this —  I am sorry.  May you have the good fortune to choose a better employer in the future.
Your organization's mission is no longer a meaningful talking point for people as they're being let go.  It may belong on your agenda when you talk with people who remain after layoffs.
And use an extremely critical eye on internet advice about "letting people go."  You'll be better served by talking with people who have been through a few real downturns.
This moment is not Business As Usual.  We're all in a much bigger story than the VC-backed CEO who fired half his team to "pivot," and blogged about it.
---
A question
What truth does your team need to hear, today?
---
A link
"The loss we are confronting is real and profound, even if it turns out to be temporary. We are undergoing a trauma that we can't fully comprehend. Denied our favorite sources of fun, we have also been robbed of the resources of meaning and community they represent."  

What Happens When We Lose the Art That Brings Us Together? by A.O. Scott at The New York Times (h/t Millie Tran)
Scott's beautiful piece is about the arts.  Yet some of us may be feeling the loss he describes for other communities where we gather ourselves.
Including our physical workspaces.  The spots we stop for coffee, lunch, or an after-work drink.  Churches, yoga classes, dog parks, libraries, and gyms.  The homes of friends and family members we can't see.  

"Going online is one answer, but it's not so simple."  So that's one thing to keep in mind while leading your teams in coming weeks.
---
Longtime readers may notice that this issue is a bit different.  I'm still coming up to speed for my Present Normal.  So please excuse any typos or loose thoughts.
Please do send me a note with suggestions, thoughts, ideas, and so forth.
And remember, you do not need to write Queen Lear.  Now or ever.
And many thanks to Supporting Members who pay to receive the newsletter.
Thanks,
P.S. The archive is here.
---
Instead of a gif
Instead of closing with a gif, this time, I want to share some work from readers who are also indie creators.  And a few not-for-profits that inspire me.
Indie creators
IMO The Two Bossy Dames newsletter about pop culture is essential, precisely because their interests and mine could be represented by a not-completely-overlapping-venn diagram.  A great way to expand my horizons.  

Lauren has friends on Bandcamp; this thread has some great recommendations.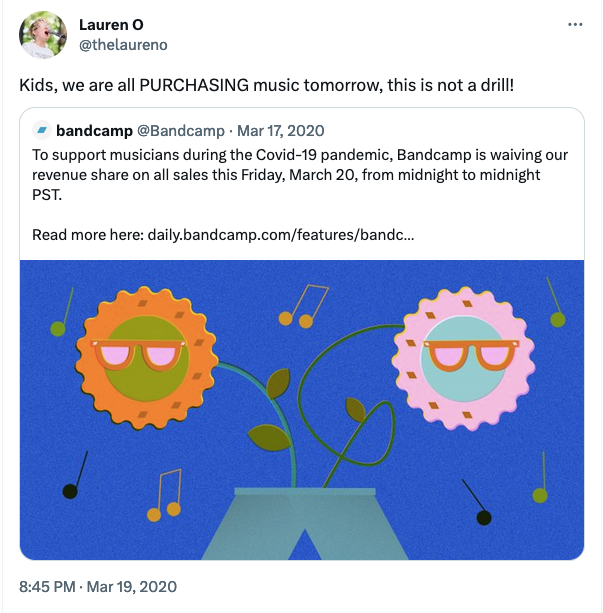 ---
Not for profits
If you care to make a donation to one of these not-for-profits, email me a copy of your receipt, and I'll comp you to 12 months' supporting membership to On Management.
(Supporting membership brings you an evolving world of putative perks, including periodic Warm Takes.)
Also: Urban Archive brings the photographic history of NYC streets to life, in your phone.  I heart your local food bank.  And your local public library (here's one of mine.)
---