The professor, an economist, made a joke. It was about economists, and the routine instruction to "assume away" variables. Though I don't remember the actual joke, I remember our laughter in the classroom. And the powerful truth his joke conveyed about business decisions: we'd always be acting under assumptions.
As business school students, our work would be evaluated based on the soundness of our (fictional) decisions. So we learned to state our assumptions -- and what we'd be assuming away.
Political risk. Extreme climate events. Disruption in reproductive rights.
In my work life — and here — I'm pretty careful. What do I know, for sure? Who can help me in/validate my assumptions; what should I ask them? What's opinion, and what's fact?
Over the last couple of years, I've spent some time considering the nature of competence. (I wrote about it, too.) We don't know what we don't know.
Last month, I pulled out my "hierarchy of workplace needs," which I plan to come back to soon. Sharing the model in the past, I offered caveats: it's a graphic representation, a visual metaphor. Not an actual hierarchy. It's an experience-based opinion, not a peer-reviewed psychology study.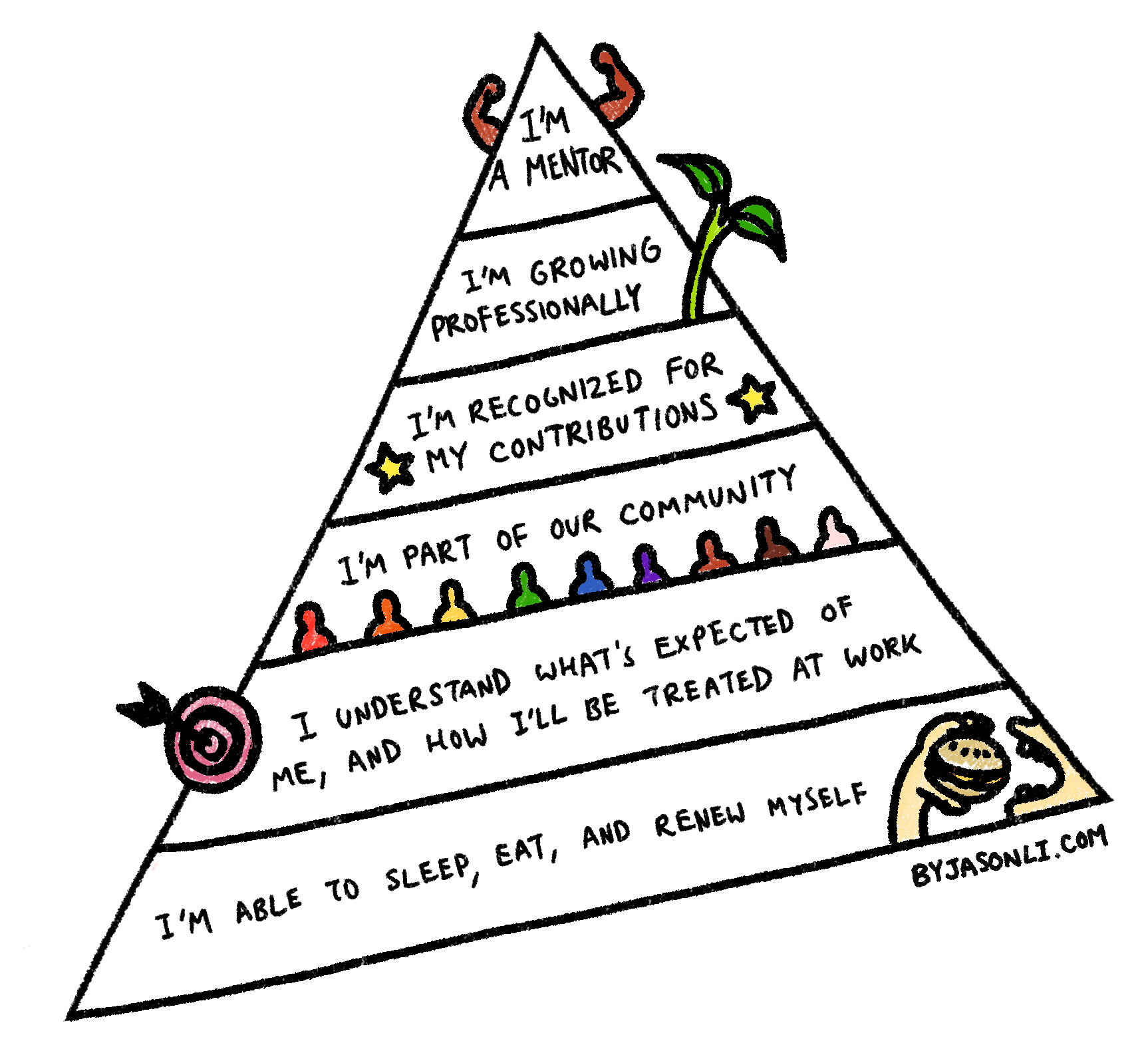 Reviewing Jason Li's illustration, one of my unstated assumptions is glaringly absent: basic human dignity.
When I borrowed from Maslow's Hierarchy, I did not assume that the ground under the triangle should say, "I am a human being, and worthy of being treated accordingly."
Some truths, though self-evident, still need to be stated. This has been an :exploding_head: moment for me.
And, as it seems that we must say this…then we must have different conversations about work.
---
US Readers
You may not think the gig economy is coming for your own job. If we're vibing together on the idea of "basic human dignity" as a basis for how people should be treated at work, I urge you to read up on HR 8442, "Worker Flexibility and Choice Act."  
You can find contact info for your House members here.
---
Links
---
Thank you for reading my newsletter!  Welcome to new supporting members – warm thanks for paying to support my newsletter.

I love hearing from you, so please do send me a note with your comments, suggestions, ideas, and critique.
As a reminder, this is a Warm Take, and I just finished my one and only giant coffee on a lovely Sunday morning. Undoubtedly, after this email lands in my inbox, I'll find typos or grammar errors.  I'll fix them later, on the Internet.
May you, your loved ones, and your communities, be safe, healthy, and free.
ICYMI