Ask (Better) Questions: On Management #35
Happy belated Lunar New Year, February, and post-polar vortex!
---
Conversation
Our workplace conversations must do the work of enabling our work.
Skilled managers consider the purpose of a conversation, and prepare accordingly.  A negotiation is different from a team meeting; a job interview is different from a 1:1.
Asking good questions always matters.
In 2016, I started making audios for On Management:  conversation with smart people would be interesting.  Right?

Things got real, quickly.
With gaps, jumps, verbal tics, repetition, and non-sequiturs, raw conversation is messy.  And, unless you're a participant, often not terribly interesting.

So, it wasn't enough to record a conversation and upload it;  it had to be edited.  (Media pros, please excuse my statement of the obvious.)
Editing has enabled me to hear myself.  Hundreds of times.  When I ask a convoluted question, I can also hear my guest, struggling to understand and respond.
I decided to work on asking better questions.  Still a work in progress.
Also cringeworthy:  sometimes I guffaw.
Last year, I came across a project by Mollie Kinsman Khine and Taylor Buonocore Guthrie, who had developed a game to enable people to have meaningful conversations, Convers(ate).
Taylor and Mollie joined me to discuss how structure, preparation, and the power of IRL can fuel meaningful conversation.  And how practice enables us to develop our skills.
You can listen to our conversation here.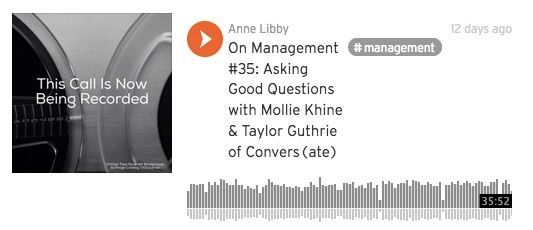 As noted, the audio has been edited.  Mostly to remove ums, errs, verbal cul-de-sacs, repetition, my clumsily asked questions, and so forth.
Subscribe to the free newsletter
---
Learning to ask questions
Maybe I wasn't paying attention?  I don't remember how I was taught to ask a question, or how I learned that questioning was a specific skill.
The twelfth graders in this video are learning to ask questions using the Question Formulation Technique.
What would it look like for your team and HR to use a structured method to create better interview questions for your next new hire?
(Spoiler alert:  HR pros tell me that having some process would make everyone's jobs easier.)
Many thanks to Michele Spiezia for pointing me to the Right Question Institute.
---
Related Reading
I follow the advice of legendary coach David Candow: stick with the five W's (who, what, where, when, why) and how.  David said if you put a complicated question in, you'll get a simple answer coming out and vice versa.  I've found this to be generally true.  If you ask, "Did you feel scared?", the person will respond to the idea of "scared" instead of telling you how he felt.

Celeste Headlee
Last Tuesday, Shane Parrish's podcast crossed my feed, The Dying Art of Conversation:  My Interview with Author and Speaker Celeste Headlee.
Holy Collective Unconsious, Batman.
Somehow I had missed Celeste's book, We Need to Talk: How to Have Conversations that Matter (library) (Indiebound).  I got the book, and skipped ahead to the chapter on the practice of asking questions.  #recommend
We Need to Talk was based on a TED talk, and it's well worth watching if you want to improve your conversations at work (and elsewhere.)
Even if, like me, you're TED-cynical.  It's good.
Chill is selfishness disguised as kindness.

Priya Parker
Mollie Khine recommended Priya Parker's The Art of Gathering (library) (Indiebound).
This book isn't about asking questions, strictly speaking.  It is about creating gatherings, intentionally, for the benefit of your guests.
We've all attended events that seemed to unfold with no plan.  How many have been useful, transformative, or even memorable in a good way?
I attended a conference where hundreds of people were herded into a bright, high-ceilinged room at 4pm to "network."  Tired from the long day, I felt overwhelmed by noise and chaos.  I wound up in the ladies' room, talking with with 4-5 other self-identified introverts and a woman who was hard of hearing.
The next year, I declined to return to the conference.
Priya wants us to take leadership for events we host, rather than leaving guests to their own devices.  Using case studies and stories, she offers ways to design effective, comfortable gatherings — like having clear purpose, communicating rules of engagement, and enforcing boundaries.
Your team meetings, offsites, 1:1s, performance reviews are your gatherings.  Are you certain that nobody on your team has metaphorically retreated to the ladies' (or men's) room?
Less "chill" and more preparation for your workplace gatherings will benefit your team members — you'll also become a more effective manager.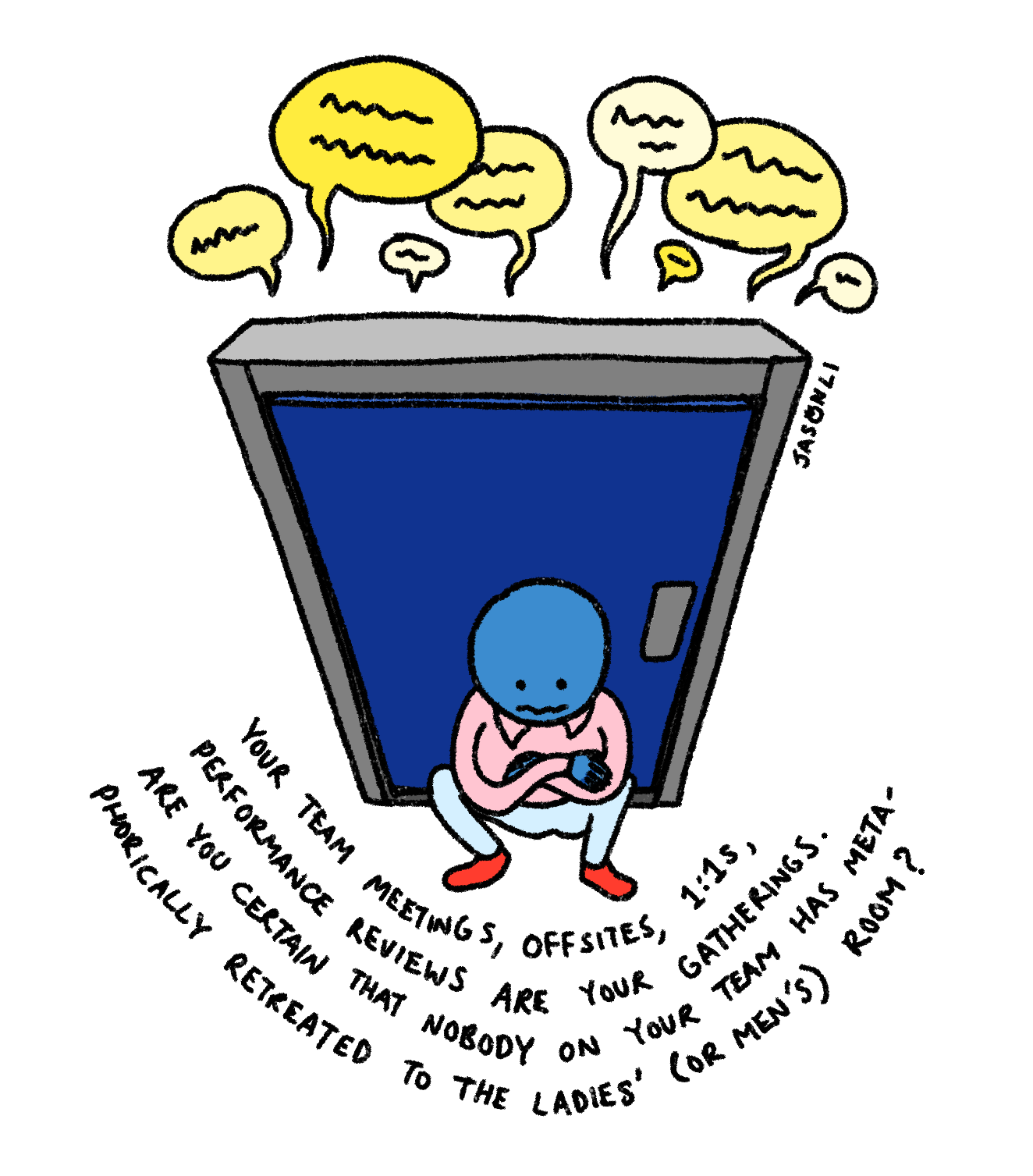 ---
Links
Also…
I'm a fan of the CBC's Under the Influence.  Terry O'Reilly delves into business history as he examines the field of advertising.  Shame: The Secret Tool of Marketing is a fascinating episode from the archives.  Spoiler alert:  it's a timebound tradition to invent sources of personal shame to sell product.


Today, a tech-career-advertising-financial complex spews clickable and hard to emulate tales about Becoming An Entrepreneur and Raising A Round.  

In Reflecting on My Failure to Build a Billion-Dollar Company, Sahil Lavingia describes his journey raising venture capital, and winding up with a business that isn't a unicorn.  His truth is heartening and heartbreaking.  


"4 percent of big companies surveyed by the Society for Human Resources Management say they're helping their employees repay their loans with cash payments of up to $250 a month," Bloomberg reports.  

Student loan debt is a generational problem, says Anne Helen Petersen in Here's Why So Many Americans Feel Cheated By Their Student Loans.  She also points out that if you're struggling with student loan debt, you're not alone, and it's not your fault.

Though employers will have to take notice, I'm not ready to declare that  "loan assistance as a benefit" is a trend.  


Yikes.  Explainer: Algorithmic Management in the Workplace, and Explainer: Workplace Monitoring & Surveillance, by Alexandra Mateescu and Aiha Nguyen at Data & Society.
---
Book Giveaway?
I'd love to send a book I'm reading to one randomly selected reader each month.  If more than 100 of you put your name in the hat, I'll kick it off.
Click here to join my (prospective) giveaway!
---
Thank you for reading.  I love hearing your ideas, suggestions and questions, and respond to every email you send me.
Thank you, Supporting Members, for your financial contribution to my newsletter.
Many thanks to Taylor Buonocore Guthrie, Mollie Kinsman Khine, Michele Spiezia and Christina Xu for contributing to this issue, and to the folks at The Launch Pad, where I recorded this month's audio.
Thanks,
Anne
ICYMI
---
P.S.  Office Hours February 28
Office Hours are 45 minute appointment slots I open up on my calendar one day each month.  Supporting members can chat with me about management and/or workplace related topics.  Conversations take place via phone or video call.
If you're a supporting member who pays for On Management, you may click here for dates for the rest of 2019, and to sign up to chat.
Prior to the call, I'm currently asking people to send me brief responses to several questions.  This enables me to prep for the conversations.
What would you like to discuss?
Are you looking for a sounding board, feedback, a solution, or something else?
What would make our conversation successful, in your eyes?
What do you hope I might bring to the table?
Is there anything else that you'd like for me to know?
---
Did you like this issue of On Management?  I'd love for you to share it with a friend!
Or,  you can also support the newsletter financially.
---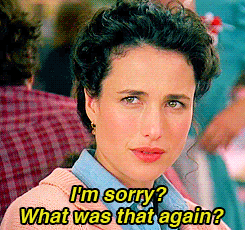 ---